Trailblazer Talks
Parents, faculty and PTO reps meet in the DTES Media Center to discuss campus events and special topics of interests.
SHARE NIGHT – HANGAR 38
Join us ALL DAY at Hangar 38 for a Share Night! Desoto Trail will receive 15% of all proceeds on dine-in and take-out orders. Don't forget to mention Desoto Trail when placing your orders!
SHARE NIGHT – The School of Theatre presents…
Join us for a fun evening watching The School of Theatre at Florida State University perform "Don't Let The Pigeon Drive The Bus." A portion of each ticket sale will be donated back to Desoto Trail Elementary School!

Order your tickets here!
Make your seat selections and then select "Share Night – Desoto Trail Elementary" before checking out!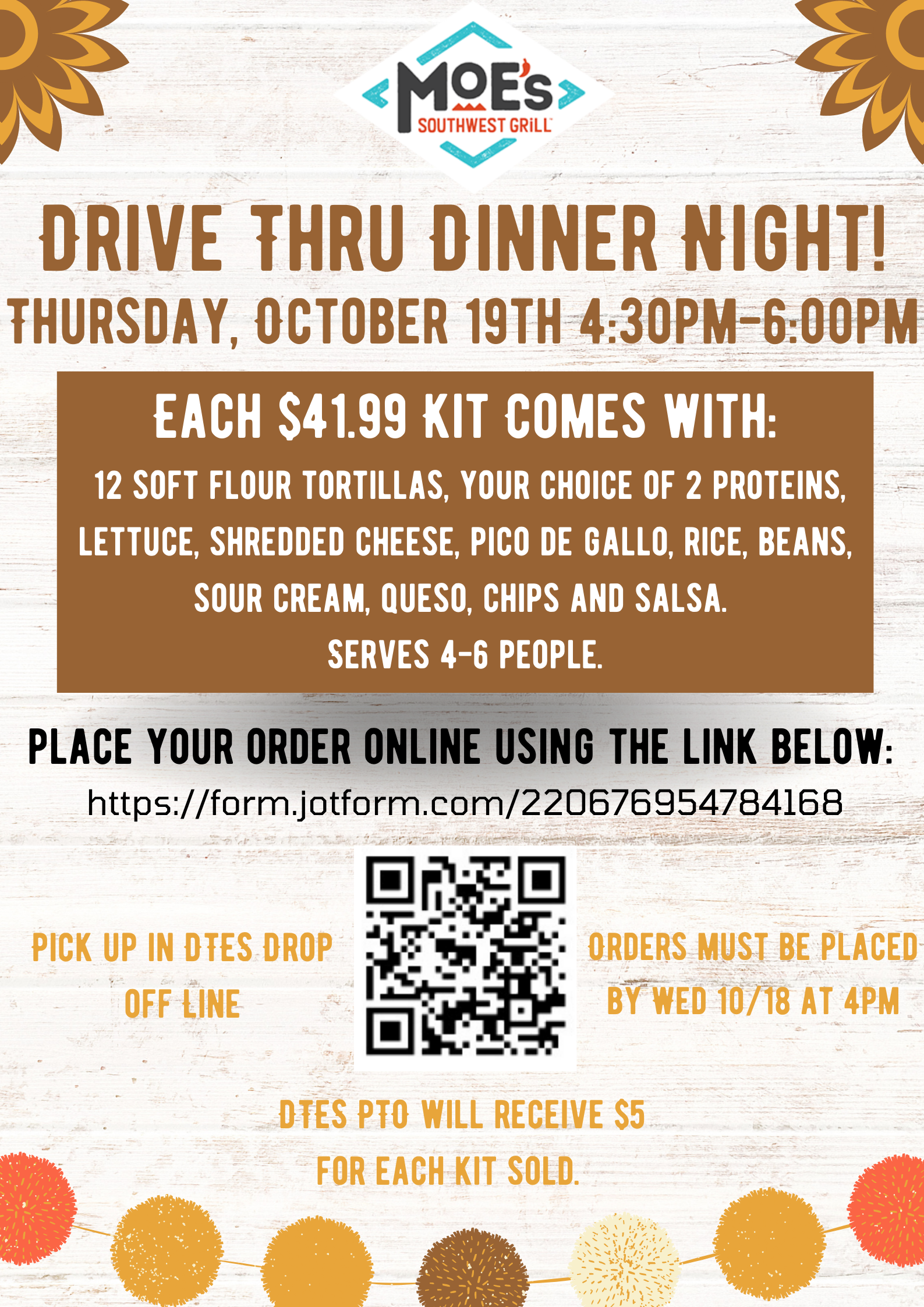 MOES Drive Thru Dinner Night
Busy school night? Skip cooking dinner and drive through to pick-up Moes on October 19. All orders are due October 18 at 4pm.
Fall PTO Social
Gather with us on October 17 from 5:30-7:00pm at El Jalisco – Kerry Forest. Appetizers and dessert will be complimentary of DTES PTO.
Grandparents Day
Order your Chick Fil A lunch by October 6.
https://dtespto.com/grandparents/
10.9.2023 thru 10.13.2023
Scholastic Book Fair
Join us for Donuts with Grown-Ups each morning, Monday thru Thursday from 7:45am-8:20am.
Skate World – SHARE NIGHT!!
Join us as we celebrate a successful patrons fundraider with s skate night share night! October 3 from 5:30-7:30pm.
PTO Fall Events – Save The Date
We hope to see you out at some of our events this Fall!
Parent's Meet & Eat
Join us September 5 from 6pm – 8pm at Ology Northside on Kerry Forest to connect with your PTO
SweetFrog Share Day is TODAY!
From 12PM to 10PM 20% of all sales will be donated to our school! Let them know at check out that your there to support DTES!
BooHoo Yahoo Breakfast
Our kids are back to school in just ONE week! How are you feeling about summer being over? Come share with us!
PTO Meeting
Please join us Tuesday, September 19th at 7:00 p.m. for a Trailblazer Talk, our 1st PTO Meeting of the year! We will be discussing a variety of topics. Meet in the Media Center and childcare is provided free of charge.